Moderator: Shirluban
---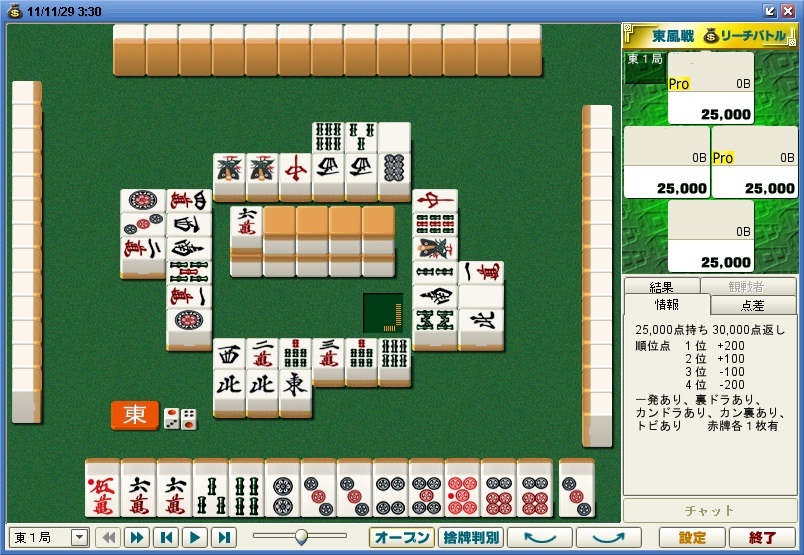 ---

It's pretty safe and


offers less possibilities than the others groups.
---

Gets me into iishanten for the 25sou and 47pin waits. Getting hold of 4 or 7 man (via draw, or 34sou 356pin) would greatly increase the score, so I'm hanging onto the aka5man for now.
---
Fresh Reacher

Posts: 42
Joined: Sun Oct 24, 2010 3:31 pm
Location: Maryland, USA

Keeping 2d only buys you something if you later draw 1d (completing 123d towards pinfu) or you later draw 2d (completing 22d towards seven pairs). The first case isn't really desirable because there are only two copies of 1d left, and we'd lose tanyao. In the second case, keeping 2d isn't any better than keeping any other unpaired tile, and I don't think seven pairs is what you want to be aiming for here (although I would keep it in the back of my mind, especially if I later drew a second 5c).
I can sympathize with discarding the 6c, because I would be reluctant to remove the red 5c from this hand and it will be difficult to use the 5c and both 6c. I could also understand discarding 3d, because it seems like a waste not to score pinfu with this hand.
---

Most outside tile on a hand with plenty of tiles in the "middle". Plus, it'll be easier to retain pinfu.
Seeing 2-man and 3-man in the discard -- that kills any notion of attempting san-shoku around that. So, gotta focus elsewhere. Can potentially do a 33-44-55 or 44-55-66 Iipeiko, while pairing with the 3-3 or 6-6. Or a 4-55-66-7 formation will do just fine as well, by dropping a 3-pin later.
Eventually, may end up dropping a 6-man later on, in the event of drawing a 4-man or 7-man there, or even a 2-sou or 5-sou.
Either way. Dropping the 2-pin still leaves plenty of options to work with.
---
Iapetus wrote:

Gets me into iishanten
My bad! I've missed that
At the middle of the hand, I'll surely won't let it pass (as soon as I see it).
So

it is.
---
Expert Reacher

Posts: 300
Joined: Mon Mar 29, 2010 1:16 am
Location: Buenos Aires, Argentina
Contact:

No other choice; except, for people who aren't happy with his hand (why wouldn't you be, anyway? Opening hand, dealer turn, too) an want more "possibilities," instead of breaking up random things (such as a 2-3s ryanmen),

is a smarter discard (which would be ok if you need haneman in oorasu or something).
---