Moderator: Shirluban
---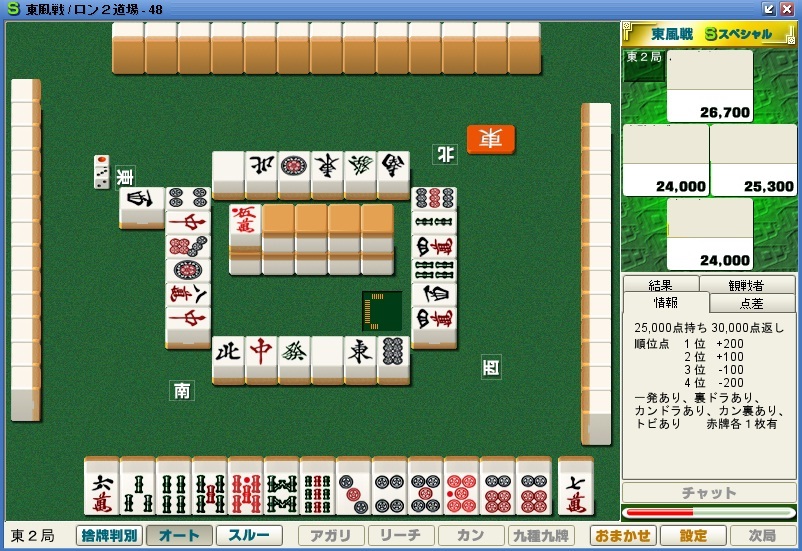 ---

Leaving the 566p shape has the highest chances of evolving a new ryanmen to replace the 89s.
---

and

This makes your hand worth more and compared to other tiles which can progress your hand, a backfire draw of

is unlikely. ~though even if it backfires, I have no regrets.

It also lets you go for open tanyao in case speed becomes necessary. Tanyao dora 3 doesn't sound bad at all.
---
Fresh Reacher

Posts: 34
Joined: Sat Feb 06, 2010 12:25 am
Contact:
9s then 8s. I have more groups of tiles here than I know what to do with, and with all these dora there's no reason I shouldn't be calling for the quick tanyao.
[url=http://subatomicbrainfreeze.com]subatomicbrainfreeze.com[/url] - [url=http://kawaiikochan.tumblr.com/]HI, IT'S KAWAIIKOCHANS[/url]

Tenhou: トリプルブレイク JRM: 3xbreak Joyjan: triplebreak
---
Discard 8s then 9s then 3d. Strategy is to go for pinfu, tanyao, ippeko optionally riichi/tsumo and bank all the doras. Can be done with 3 from 18 tiles. Must stay closed but probably favour no riichi call.
---
Expert Reacher

Posts: 300
Joined: Mon Mar 29, 2010 1:16 am
Location: Buenos Aires, Argentina
Contact:
5s. No need to go back any shanten; mahjong is about speed, riichi and tsumo. Note that you can still go for open tan yao this way without ever having to go back to 2 shanten.

9s is valid, but I feel it slow and optimistic at 7th draw.
---
Mahjong is sometimes played with two of red 5pin. Does this one do that, or not? (Does the rule panel on the right specify if it doesn't? It looks to me it might, but I don't read Japanese perfectly; it would be good to make up the list specifying what the relevant Japanese words are)

EDIT: I tried to figure it out; it seem like it means they are only one each of red tiles of each suit, as far as I can tell (but I cannot understand it perfectly). (Please tell me whether or not this is correct.)
---